For news re: what's up in T.O.'s East-End, including Leslieville, visit www.eastendnoise.com
For those who want to be in the loop re: crafty happenings of note in Toronto, make sure to visit Toronto Craft Alert: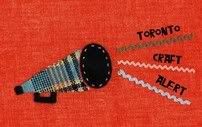 Frugal Fashionista,
N-R's weekly style column in Metro
www.nowtoronto.com
Toronto's free alternative weekly (arts, politics, food & more)
www.sweetspot.ca
A daily injection of tips re: fashion, beauty, lifestyle notables with a T.O. slant
www.torontoist.com
A cool urbanite guide to what's worth doing/seeing in Toronto
Stylistas will appreciate the dispatches and updates from Toronto Street Fashion - a great resource for what's happening & coming up soon
Phenomenal Eats & Afternoon Tea
The Red Tea Box
(696 Queen St. West, 416-203-8882)
*closed on Tuesdays
Try the Mad-Hatter's Bento Box with an iced Chai - yum!
---
Best Wallet-Friendly Vintage Clothing Shop
Vintage Bride
(587 Markham Street, near Honest Ed's in the Annex, 416-530-0025)
This is THE top T.O. source for affordable and truly lovely vintage dresses, jackets and accessories (tons of merch priced under $30!).
---
Orgasm-inducing Cupcakes
The Cupcake Shoppe
(2417 Yonge St., N. of Eglinton, 416-322-6648)
www.thecupcakeshoppe.ca
N-R's fave: The "Yonge & Eligible" (golden butter cake & vanilla-cream icing)
---
Known for it's impressive selection of gourmet blends, unusual tea accessories and its British treats (think: Thornton's toffee!), Pippins Tea is a favourite Beaches area stop. Expect a warm welcome from owner Barb Snow and definitely try the topselling Creamed Earl Grey - yum.
Open 7 days a week at 2106 Queen St. East